Hot from WWDC 2015: Siri gets massive improvements, Apple details 'Intelligence'
10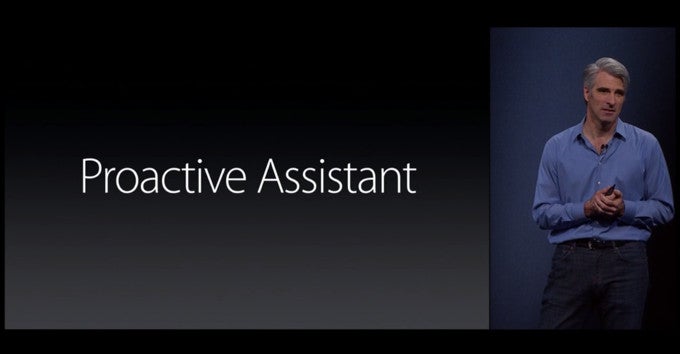 As of this writing, Apple execs are still up on the stage, detailing the various improvements that are on their way to becoming a permanent fixture to your iOS 9 (soon) devices. One of the very first announcements has already been made, however — Siri is getting a massive bump in capabilities, and Apple has detailed a number of improvements to the contextual capabilities of its OS under a new 'Intelligence' initiative. In many ways, the two are a part of the same — the company's vision for a more proactive iOS.
Starting with Siri, whose UI has been re-designed, Apple first made sure to point out that its digital assistant is now 40% more accurate than last year, with an error rate of just 5% — an industry best, according to the company. At the same time, Siri has also gotten 40% faster, all the while handling over 1 billion requests per week. But what changed in terms of functionality?
For starters, iOS 9 will now learn from your behavior and use this information to better respond to your needs depending on context. For example, if you tend to meditate in the morning, your iPhone will now give you a shortcut to your favorite related app on your lock screen first thing in the morning, allowing you to quickly get going. You the sporty type? That's fine, too — just plug in your earphones and your iPhone will instantly bring your music player to your lock screen and give you a shortcut to it, too. This was part of 'Intelligence'.
Turning to Siri, it'll be more aware of what's going on as well. An incoming e-mail inviting you to a gala will trigger the assistant's obsessive need to keep your agenda up to date and add a reminder to your calendar automatically. You'll also get a reminder in the form of a pop-up window when it's time to leave, based on current traffic. If it's a meeting you are to attend, Siri will still add it to your calendar, but Search will also give you adequate and related suggestions — shortcuts to contacts that will be present at the meeting, for example.
Speaking of Search, another major announcement was made — it'll now be able to look into your apps and offer suggestions deep within them. For example, a search for a given recipe will end up with suggestions from your apps in addition to web pages. Clicking on one of them will route you directly to the page within your favorite cooking app that has what you're looking for.
Lastly, Siri will now mimic what Google did with Google Photos by allowing you to search for photos easily with filters like date and context. So if you want to check out your photos from that one pool party last July, you can just ask Siri to fetch them for you.
In all, the updates to Siri and the overall capabilities of iOS 9 remind us quite a bit of functionality that was already added to Android M/Google Now. Not all of them, but quite a few. While fans will certainly find the time to bicker over this observation, we're just glad to see smartphones — regardless of brand — get even smarter than before.