Hot from I/O 2016: Google Home is the search giant's answer to Amazon Echo
13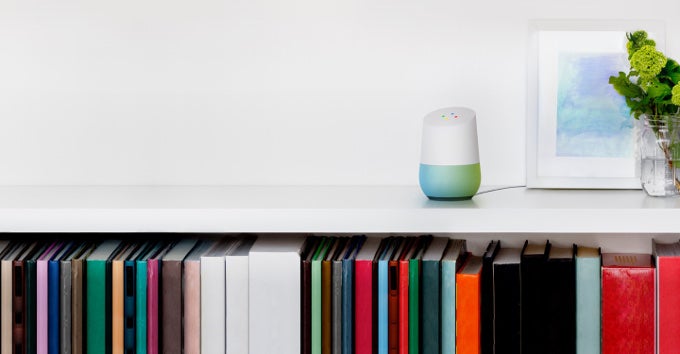 The keynote to Google's I/O 2016 event is still ongoing, but that doesn't mean we don't have our first few pieces of noteworthy announcements. For anybody who's been paying close attention to Google, this one probably won't come as a surprise, however: Google Home is an
Amazon Echo
-like overmind for your living room (or, really, any or as many rooms you want), integrating all the features of the Google Now personal assistant and more. Home comes at a time when, Google says, over 20% of its search traffic in the US is comprised of spoken queries.
Fitting the palm of an adult's hand, Google says that Home was designed to blend with the interior of the room it'll be calling
home
. Tubular in shape with the top seemingly halved at an angle, the device's bottom will come in different colors and materials, including metal and fabrics. Save for the four LEDs (blinking in signature Google colors) on top, there are no buttons to speak of. The experience is entirely hands-off and voice controlled—even from across the room.
On stage, VP of Product Management Mario Queiroz echoed the words of Google overlord Sundar Pichai, claiming that Google Home is the result of some 17 years of experience making the world's information available to search. It makes sense, then, that apart from blasting music through its built-in speaker (or an audio system it's been wirelessly hooked up to) and playing movies, Home will also answer any and all questions, set alarms and tasks, keep track of your reservations and travel plans, and even control other smart accessories—like the Nest thermostat. In the future, Google says it'll be possible for more advanced intents, such as ordering flowers or takeout, to be actioned.
Promised to work with both iOS and Android devices, Google Home will be released "later this year" at a price that remains to be disclosed. In the meantime, Google vowed to work closely with developers that may want to integrate their brainchildren into the service.