Hope for malaria-infected: Lifelens app gives 94% accurate diagnosis on your smartphone from a drop of blood
1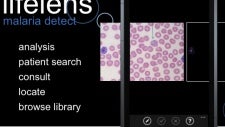 Malaria
, the mosquito borne disease is one of the world's three biggest killers along with AIDS and tuberculosis. It's been the focus of Bill & Melinda Gates' foundation humanitarian efforts, and now another project brings the simplicity and ubiquity of smartphone computing power to tackle the problem. It's the Lifelens project which brings point-of-care smartphone application for accurate malaria diagnosis.
Why is accuracy important?
Well, that seems like a question for Captain Obvious, the real question is why there is no accuracy in the current tests used in regions where the disease is killing most. In sub-Saharan Africa the problem lies in the very detection - people there use a cotton swab with a reactive agent which changes color if the blood drop on it is infected. Sadly, it's only 40% accurate. Here's where Lifelens' solution comes:
"The premise of Lifelens project is to digitally characterize anemia, visualize blood cell rupture and parasites, and provide three-dimensional modeling of cells through single image acquisition of low-volume blood smears by peripheral finger pricks. With such a straightforward process, Lifelens can be used by anyone who has the ability to operate basic cell phones."
The Lifelens diagnostic application works with 94% accuracy, allowing huge savings on unnecessary medications, and better health care.
Now, how does it work?
You take a drop of blood and place it on a slide with a dye which is absorbed only by the malarial parasite. After that you snap a photograph with your smartphone which has to be equipped with a small lens giving you 350 times magnification. From there on the software kicks in counting the red blood cells, and the count is used to diagnose the disease. Next, all that data could be sent to healthcare professionals along with the GPS co-ordinates of the infected person.
It's also important to note that the app only uses the Internet connection for pushing the data with GPS coordinates, while the analysis itself could be run without being on a network.