Honda creates smartphone case with air bags
13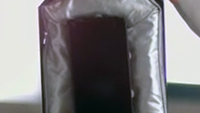 Precisely placed Air Bags inside your vehicle can save your life. So why can't Air Bags be developed to protect the one thing you treasure more than anything else in this world, your smartphone. Well, the guys at Honda have done it. Dubbed smartphone case N, the product deploys Air Bags to guarantee that your dropped smartphone doesn't end up with a dent, cracked screen or gets bricked.
All ready for Honda to take your money? Well, they won't. The case is actually not a real product, even though the accompanying video below purportedly shows you how it was designed and built.
What is real is a patent awarded to Apple for
a case that uses GPS and other sensors to determine if your phone is free falling
and how close it is to the ground. We told you about the patent earlier this year. Apple envisions the case moving as it is falling in order to minimize the potential damage to the phone. Inside the case is a can of gas that would help give it a thrust in the opposite direction to slow down the descent of the phone.
Even if the case N isn't real, it is still interesting to watch in action. To do so, click on the video below.
source:
Honda
,
Autoblog
via
Gizmodo