Honda concept allows you to use your phone to drive an on-board navigation and entertainment system
5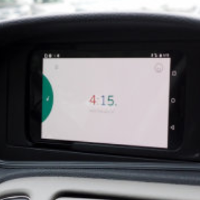 Honda and Drivemode have teamed up to develop a new concept that allows you to use your own smartphone for the on-board navigation and entertainment system belonging to your car. By plugging the phone into a space built-in to the dashboard, you can access your phone's software instead of the limited capabilities of a car's pre-installed applications.
The screen on your handset doubles as the display for your car's on-board system. Using the Drivemode app, your phone responds to your voice as it works hands-free to help you navigate, change songs, answer messages and contact friends. For some applications, Drivemode's oversized buttons make them an easier target for drivers. And images from the blindspot camera will show up on your phone's screen as well.
There are some issues that will need to be resolved, including offering a cavity in the dashboard that will support different smartphone sizes. Honda says that this concept is still years away from being included in a production vehicle. One thing that will have to be developed is an iOS version of the Drivemode app. Available only in Android at the present, Drivemode says that it will produce a version of its app for Apple's mobile OS.
source:
Drivemode
,
Engadget