Hollaback! app seeks to prevent harassment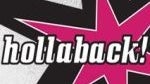 No matter your gender, ethnicity, appearance, or sexual orientation, you've probably been a victim of verbal or physical harassment at one point or another. Hollaback! is an organization that seeks to expose such harassment that might otherwise be carried silently by the victims. While Hollaback!'s primary target is gender-based harassment, anyone can log a complaint.
With their new app for the
iPhone
, users can upload photos, geographic locations, and descriptions of their harassers. This information will then be used to inform the community, legislators, and even law enforcement if the circumstances merit it.
Hollaback! says the following: "We believe that everyone has the right to feel safe and confident without being objectified." We agree. If you've ever spent much time in a dense city like New York, you know that cat-calls often step over the line of friendly conversation, and can become downright terrifying.
The efforts of such
location-based
reporting have already made an impact. The New York City Council's Committee on Women's Issues had their first hearing on street harassment last month, and used reports from Hollaback! as both evidence of harassment, and the motivation for a crackdown.
The Hollaback! app is available on the iPhone now for $0.99, and will be available soon for
Android
devices.
source:
Hollaback! (iTunes)
via
The New York Times
Recommended Stories