Hilarious prank has Apple Genius drop boxes with iPhone 5 while fans are waiting in line (video)
64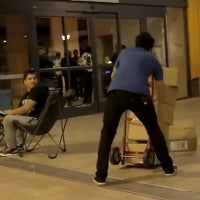 The guys over at Awesomness TV picked on the
iPhone 5
buzz immediately, and created a sophisticated prank for all those that were waiting in line to get it.
As you can guess, hilarity ensues, when one of the pranksters, dressed up as a Genius Bar staffer, chats casually with the Apple queue, then drops the alleged boxes full of iPhone 5 units in front of their eyes.
"It's Gorilla Glass" is his moto, although you can hear shattered pieces inside, while he tries to fit them back on the hand cart, making every Apple fan in the queue cringe. Check out the prank below.