Here's what steps Apple took to make the iPad Air 2 a super-thin tablet
22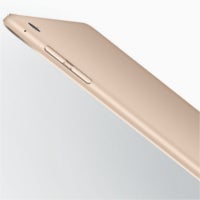 So, you're hyped about the freshly announced
iPad Air 2
and are itching to get your hands on one ASAP? Cool, here's what to expect, as far as the exterior is concerned:
Apple had to move some things around, in order to achieve the super-thin 0.24" profile. The first thing you might notice is the lack of the physical "mute" switch that used to be located just above the volume buttons. For better or for worse – instead of redesigning it, Apple decided to do away with it entirely – probably due to the fact that the
Control Center
, introduced back with iOS 7, already gives quick enough access to the functions that the on/off side switch was assignable to.
Secondly, you will notice that the volume buttons are not lying straight on the side of the device, perpendicular to the screen, as they do on the iPhones. No, no, ain't nobody got room for that – the buttons are instead slightly tilted, face outwards the back of the tablet.
Of course, there had to be more to be done, than just move buttons around. Apple had to re-do the way it produced the iPad screens, in order to end up with a thinner frontal panel and, in turn, more room for the components that power the device. So, to do that, Cupertinians combined the 3 components that usually make up a touchscreen – the LCD at the bottom, touch-sensor in the middle, and protective glass at the top. According to Apple, the three layers have been combined into one, saving much room for the guts below the screen.
What this should mean to you is that the picture will seem, even if slightly so, more alive, closer, and "popping up" from the screen, due to the fact that there will be less layers of material between the LCD and your eyes.
We've heard about this tech before – Apple is said to employ the same (or similar) technology for its iPhone 6 screens. Reports claimed that it's
pretty hard to achieve a good production yield
for the larger iPhone 6 Plus displays, which is the reason why there have been less phablets to sell, ever since launch. We wonder if the same will hold true for the new iPads?
source: Apple