Here's how you can test for sexually transmitted diseases with a cheap dongle and a smartphone (video)
9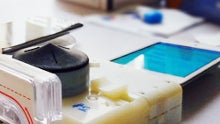 Armed with just a $34 dongle and a smartphone, you will be able to test for HIV, syphilis and other STDs, according to researchers from Columbia University. Their invention saves tens of thousands of dollars for an ELISA test equipment, and, since the results are analyzed and displayed on your Android or iPhone, anyone can learn to use the gear and take it in the field with them, instead of waiting for lab results.
The phone-operated HIV test accessory fits in the palm of your hand, and is basically a cassette with reagents where a drop of blood passes through the various chambers. The researchers eliminated the need for an electric pump, instead relying on the user to manually push and activate a negative-pressure chamber. The small amount of electricity needed for the testing process is obtained via the audio jack of the phones, which is used both for power and data transmission.
The dongle has already been tested in Rwanda, and users started getting the gist of it after just half an hour of training. This has the potential to open the floodgates for home self-testing on a variety of diseases that previously required a trip to the lab with the expensice equipment, which is not always feasible, especially in the developing world.