Here's how you can make your white iPad 2 glow in the dark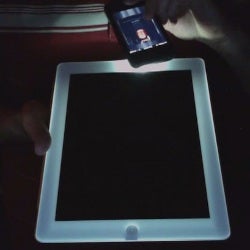 Okay, we knew you could stick the iPad2 to your fridge using the smart cover, but what about making it glowin the dark? All it takes is a flashlight and a white version of theiPad 2 to turn your expensive new tablet into a cool looking glowingframe. To squeeze even more of your buck, 9to5Mac has come up with agreen glow to the bezel of the white iPad making it look even coolerin a Tron sort of way.

We won't be surprised to see craftyfolks out there come up with an attachable light source or even case,but for the time being you'll have to manually light up your bezel.Check out the videos below and don't forget to share how it workedfor you in the comments below!
source: 9to5mac