Smart Covers can turn your pricey iPad 2 into the coolest fridge magnet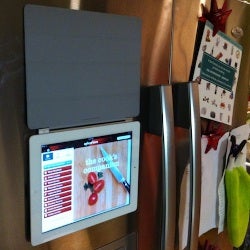 We knew the iFridge would come one day, but we never thought it was that close. Now allyou need to adorn your fridge with an irresistibly futuristictouchscreen is the new iPad 2 and its Smart Cover. Just attach it to the refrigerator and voilà, there you have a true coolerator!

Thetrick relies on the magnets inside the cover to snap to yourfridge so you can get lost watching a movie while your stove isburning. Or maybe that wasn't such a good idea. Whatever you use itfor, just make sure not to slam the door - after all a broken $499fridge magnet is hard to swallow.
source: 9to5mac