Here's how to win a Samsung Galaxy S4 just by looking at it for 60 minutes
35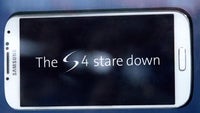 What would you do for a
Samsung Galaxy S4
, also known as the hottest smartphone this side of the universe? Are you ready to, let's say, stare at one for an hour? If that's the case, then Switzerland is where you need to be. Local carrier Swisscom has partnered up with Samsung and has organized this awesome challenge scheduled to take place across multiple cities throughout the country.
As we already said, one has to stare at a Samsung Galaxy S4 for 60 minutes straight without moving their eyes away. That's easier said than done because the organizers have a dozen of distractions set up, including motorcycles burning rubber and a disgruntled couple (relax, they're actors) yelling next to the contestant's ear on purpose.
The Samsung Galaxy S4 staredown shows off one of the smartphone's many stand-out features, namely Smart Stay. As frequent readers know, that's what keeps the smartphone's screen on as long as the user is looking at it.
This video was shot on May 16 at Main Station in Zurich, but there are three more locations where the very same challenge will take place: Lucerne, Schwanenplatz on May 28, Berne, Waisenhausplatz on May 29, and Lausanne Place de l'Europe, on May 30. More information about registering is available at the source below!