Here's a scratch, burn, and bend test of the... original Apple iPhone
9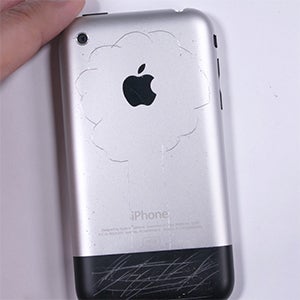 In case you find bend and scratch test interesting, then you've definitely stumbled upon some of Zack Nelson's videos on the JerryRigEverything channel.
The YouTuber with the burly arms is an obstacle that not every contemporary phone out there survives unscathed, and that's understandable. Zack has the habit of burning phones with a lighter, scratching their meticulously-crafted metal bodies with a sharp pocket knife, and last but not least, bending them with his bare hands.
We've seen Zack test out tens of new phones over the years, but how would a 2007 gadget fare in his sadistic tests? Inspired by the anniversary of the Apple iPhone, the YouTuber decided to test how the very first iPhone would fare in his test, and, of course, recorded the result on video.
Zack's knife left tons of scratches on the phone's body, but the original iOS handset fared pretty well in the bend test. Anyway, we are not the kind to spoil things for you, check the video yourselves right below.
source:
JerryRigEverything