Here is Apple Tim Cook's fully translated apology to Chinese customers
19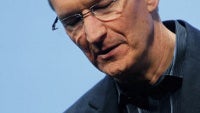 Apple's chief executive Tim Cook inherited the position of the iconic Apple creator and CEO Steve Jobs. Cook is different. While Jobs left an impression of being unapologetic, Cook seems to be trying hard to maintain a good relationship between Apple and its customers, even if that takes a public apology.
The first one came after the Apple Maps fiasco when Apple chose to replace Google Maps for a sub-par and often downright buggy Apple Maps in iOS 6. Luckily, in just a few months Google Maps introduced its own app on the App Store which is among the most popular ones up to this day.
And the second one apology by Apple's CEO came just a couple of days ago, after a massive outrage over Apple's privacy policy in China. The company did not offer full iPhone replacements and its warranty program in the world's most populous nation seemed crippled compared to the rest of the world.
The Chinese media launched a massive anti-Apple piece in an influential investigative program on the national CCTV. All seemed like a well-coordinated attack on Apple. Cook had to apologize again, changing the warranty program of the company and making the changes easily visible on its website. Here is the fully translated text of the apology:

Dear Chinese consumers:

Over the past two weeks, we have received a lot of feedback about Apple's repair and warranty policy in China. We have made a profound reflection on these opinions, studied China's "Three Guarantees" regulations together with government authorities, examined how we communicate about our repair policy, and checked our management practice for Apple's authorized service providers. We are aware that insufficient communications during this process has led to the perception that Apple is arrogant and disregard, or pays little attention to, consumer feedback. We express our sincere apologies for any concern or misunderstanding arising therefrom.

In order to further improve our service levels, we are implementing the following four major adjustments:

1. Improve the repair policy for iPhone4 and iPhone4S.

2. Provide a concise and clear repair and warranty policy statement on Apple's official website.

3. Strengthen supervision and training efforts on Apple's authorized service providers.

4. Make sure that consumers can easily contact Apple for feedback on our service and other related issues.

Meanwhile, we also realize that we still have a lot to learn on operating and communicating in China. Here, we assure you, Apple's commitment and enthusiasm for China is not different than any other country. Our ideal is to give the best user experience and customer satisfaction, even more it is our promise. It has been deeply rooted in Apple's corporate culture. We will make unremitting efforts to achieve this goal.
Improvements in Repair Policy of iPhone4 and iPhone4S:

So far, iPhone and iPhone4S can be repaired in one of the following three ways:

If consumers find problems within 15 days of purchase, we will give a refund or exchange it for an iPhone with a renewed one-year warranty.
If consumers find problems after 15 days of purchase, Apple will replace related components depending on their conditions, such as the camera module or battery.
If the iPhone can't be repaired quickly by replacing the components, Apple will provide the consumer with an iPhone partially reassembled. This iPhone will use new components and only keep the rear cover of the original iPhone.

Nearly 90% customers have expressed their satisfactions to our repair service. Customer satisfaction is the most important gauge by which Apple measures its success.

However, others suggested that partial reassembly is almost the same as complete product replacement. Thus it would be more favorable for consumers if they can be provided with a new iPhone for replacement. Therefore, from April 2013, Apple will upgrade the iPhone 4 and iPhone 4S service pack to complete product replacement with new components and a renewed one-year warranty since replacement day.

If consumers' iPhone4 or iPhone4s has already been repaired by Apple or Apple's authorized service providers using partial reassembly, we'll consider it as having been replaced with a complete product, and provide the consumer with a one-year warranty from the date the iPhone is repaired. Apple's warranty system has been updated with the information. Thus, affected consumers won't have to take extra moves.
Now, all consumers can see on our site clear and comprehensive repair and warranty policy.

We are pleased to provide information to consumers who hope to learn more about after-sale service. For example, we've been providing two-year warranty to MacBook Air and other Mac computer motherboard and other major components. Likewise, iPad's main components have two-year warranty, and other components have one-year warranty.

We realize that our website didn't clarify the policy before. We hope the following statement can answer all the questions about the service provided by Apple.
Apple is making greater efforts to ensure Apple's service providers to follow our policies and endeavor to offer consumers the highest quality service.

Within one week from March 18, 2013, we handed down new materials to all of Apple's authorized service providers in China, so as to make sure every personnel offering service for Apple's products not only is familiar with our policy, but also have mastery of China's "Three Guarantees" regulations and related policies. Meanwhile, we have taken the initiative through face-to-face meetings and other forms to verify and ensure every Apple's authorized service provider has established training courses and renewed employee's knowledge about repair and warranty policy.

We will make unremitting efforts and continuous monitoring of Apple's authorized service providers to make sure consumers get the highest quality service.
Now, it's convenient to give feedback on service-related issues.

If consumers have questions about the service provided by any Apple Store retail store or Apple's authorized service provider, you are welcomed to visit
http://www.apple.com.cn/support/service/feedback/ and get in direct touch with us. Our goal is to ensure consumers can enjoy a world-class user experience no matter where they purchase Apple product or receive service.

We give our heartfelt thanks to everyone for valuable feedback. We always bear immense respect for China and the Chinese consumers are always our priority among priorities.


Tim Cook
Apple CEO