Here comes Android
This article contains unofficial information.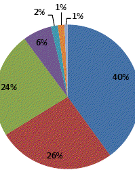 Next month, AdMob plans on changing the monthly analytical report that it has been famous for. The company wants to make the report "more useful going forward" to focus on the industry's long term trends. The last report of its kind shows that Android is closing on a little more on Apple thanks to a multitude of new devices. The company, recently acquired by Google, reported in its latest survey, dated May 2010, that about 40% of the worldwide OS marketshare belonged to Apple while Google's open source OS owned a 26% share. Symbian was third with a 24% piece of the pie. In North America, the results for May had Apple with 54%, Android 33% and Symbian with 7%. As of May, 7 out of the top 10 smartphones were Android models. The iPhone was number one with 39.9% with the Motorola DROID a distant second with 6.8% of the market. In third was the HTC Magic with a 2.9% followed by the Nokia N70 with a
2.3
% slice of the pie. In firth place was the
2.4
% share of the HTC Hero. Besides the DROID, the Magic and the Hero, the other Android devices in the top ten included the HTC Dream (7th,
2.1
%), Motorola CLIQ (8th, 1.8%), HTC Droid Eris (T-8th, 1.8%) and the Samsung Moment (10th, 1.5%). As a comparison, in the May 2009 top ten, 7 of the phones were Symbian powered with only the third place Samsung Dream representing Android.
source:
Admob
via
Read, Write, Web