Here are the world's most popular Android tablets
24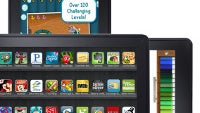 Android tablets come in such a mind-boggling variety in sizes and forms that it is hard to keep track of them, but there must be a couple of devices that stand out among the rest. And indeed there are.
App publisher Animoca ran an interesting test on nearly a million Android tablets that use its software across the globe and came up with some interesting data. And the most popular Android tablet turned out to be the
Samsung Galaxy Tab 2
with an 11.8% share of the market. Second came the
Galaxy Tab 10.1
and only then were the
Amazon Kindle Fire
and Fire HD tablets. The
Google Nexus 7
took the sixth place. The Animoca test tracked users accessing Google Play and playing one of their games.
Interestingly, though, another research firm, Localytics, ran the same test on an even larger base of tablets in March. The numbers came in similar but not identical. The Galaxy Tab 2 got the leada but it was a much narrower race with the Amazon Kindle Fire tablets that came in second. The Nexus 7 ranked fourth here.
What's noteworthy in both surveys is how widespread are the Samsung tablets. We guess volume and scale are important factors after all.
source:
Read Write Web