Here are some more real-life photos of the crazy-thin Vivo X5 Max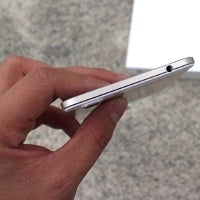 The thinnest smartphone ever, the Vivo X5 Max, made an official debuted earlier today, showing its skinny
4.75mm-thin silhouette
(3.98mm at the thinnest point, though), which is most suitable for any of the popular fashion runways.
Jokes aside, this Android champion is the thinnest one we've seen to date, but its insanely thin profile has, naturally, resulted in a some compromises. Believe it or not, Vivo has successfully fitted a 2,000mAh battery somewhere inside the X5 Max, which is somewhat smaller than the industry's current standards, but then again, we are dealing with a catwalk star here.
However, the phone will hardly make it out of its homeland, where it will reportedly fetch a $486 price tag. That said, chances are that even if you have the necessary desire, you'll be hardly able to get it. Try as you might, you'll probably end up dreaming how you are eagerly holding the retail box of the Vivo X5 Max and trying to open it as fast as you can. Well, we've got you covered - you can check out a photoshoot of the Vivo X5 Max right below!
The Vivo X5 Max is a catwalk star that won't make it to the international fashion runways
source:
CNBeta
via
GSMDome