Heins: BlackBerry 10 handsets offer personal computing power
38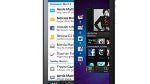 Talking to ABC-TV on Friday morning to
commemorate the U.S. launch of the BlackBerry Z10
, BlackBerry CEO Thorsten Heins says that he wants his company to be the first to consolidate all of your personal computing devices into one smartphone. Heins says that the
BlackBerry Z10
is more than just the next smartphone, it has the
power of a laptop
. He asked rhetorically, why couldn't people "
unify this to one device that executes all your computing needs?
"
When the executive was asked if the company was working on a tablet with a place to dock a smartphone like the
ASUS Padfone
, Heins teased that just such a device might be coming. He said that, "
There are various configurations you can think about. We are working on a few of those, so allow me to not comment on those in depth. But we will talk about a few of those concepts at BlackBerry World
" The annual convention will be held in Orlando during May, and the CEO said that he will also discuss the BlackBerry 10 hardware lineup at that time.
source:
ABCNews
via
TechCrunch