Heartwarming: Tim Cook replies to a guy with a cancer-stricken relative who turned Apple fan
20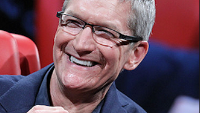 Remember the storywhen Steve Jobs was surprisingly answering Apple user queries, which produced some infamous quotes like "
you are holding it wrong?
" Well, something similar just happened with Apple's CEO Tim Cook, yet the approach to the direct reply was more humane, and for a good reason.
A Reddit user under the nickname "bhanel" wanted to thank Apple for easing the pains of his cancer-stricken grandfather. After a bladder surgery, the pastor and Navy vet was too weak to bother with his old flip phone, and they got him an iPad from the nearest store. Soon after, the patient took control of the app installation process, and even got himself an iPhone to go with the iPad, teaching his wife how to use iOS in the process.
In any case, he is now as connected as he has never been in his life, and user "bhanel" just wanted to tell Apple this inspirational story, and thank for the consistent experience. Here's what he got straight from Tim Cook - PR ploy or not, it's quite touching to get a direct reply from the CEO of the biggest public company: