Has Verizon released the Samsung Galaxy Nexus is the question this web site can answer
30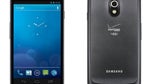 That the
Samsung Galaxy Nexus
for Verizon is one of the most anticipated smartphones right now is something that we are more than aware of. However, the multitude of alleged release dates, which the rumor mill produced and reality proved wrong, are testing the patience of Android enthusiasts throughout the country.
Usually, when one is interested in a particular device, they would visit a website such as PhoneArena.com to keep track of it, yet someone decided to make following the Galaxy Nexus' release a bit easier with a dedicated web site. "Has Verizon released the Galaxy Nexus" is as simple as it gets as you get the answer to that question in a straightforward manner (read few words and large fonts). The latest rumored release date is also there, as well as all the previous ones that have turned out to be false.
Cool idea, don't you think? The web site is available at the source link below, so feel free to take a look.