Has Apple found a great new use for 3D Touch with iOS 10?
41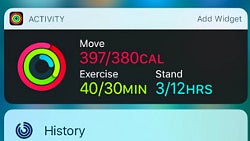 When Apple announced its elaborate
3D Touch
system on the
iPhone 6s
and
6s Plus
, it didn't demo much of the possibilities that opens up, apart from the Peek and Pop actions. While those two might sound like something straight out of Cartoon Network, the ability to preview email before you open it, or get quick shortcuts to the most used app functions before going in seems worth the investment.
Still, not many people have gotten accustomed to using the 3D Touch function on a daily basis, as
our recent poll suggests
, but are rather using it occasionally, or simply to demonstrate it for friends and family, then quickly forget it exists. With iOS 10, however, Apple nailed the use of 3D Touch, and it is thanks to the new
elaborate widget system
it introduced.
When you hard-press an icon now, you not only see a small subset of the most used functions that the app offers to choose from, but whole widgets that preview the most pertinent information that the app is supposed to carry, so a lot of the times you won't even have to go in. What do we mean? Well, do the deep press thingy on the Calendar app icon, and it will show you the upcoming meets, do it for the weather app, and the widget with today's forecast will pop up, while the Music icon will show you the album art of the currently played tracks, and so on.
You can even add said widgets to the new dedicated homescreen on the left directly after deep-pressing an icon. This is a fine solution to the constant going in and out of apps that could make 3D Touch a lot more indispensable for your daily operations with the iPhone, what do you think?