Hangouts for Android may finally get Google Voice integration soon
8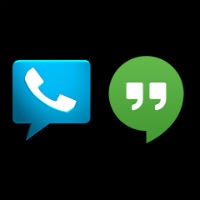 Not too long after Google first confirmed that Hangouts would be taking over the
default SMS
duties on Android devices, the company also hinted that support for Google Voice would eventually be added to Hangouts. That was over a year ago. We hadn't heard anything else until a few months ago, when it was rumored that
Hangouts could fully absorb Voice
. The rumor at the time was that we were only a few months from seeing the switch.
Now, we're seeing evidence that the time may be very near that Hangouts will integrate Google Voice features, and maybe kill off the Voice app all together. It seems that a redditor used the debug menu and uncovered a new prompt in the Hangouts app that would allow for the migration of Google Voice into the app. If it worked, turning it on would have your Voice SMS and voicemail handled inside Hangouts.
Unfortunately, the prompt doesn't actually do anything right now. It is also unclear when the move will be made. The assumption is that if Google has gotten to the point of adding in the prompt, it must be close to having the update finished. It should also be noted that the prompt allows you to opt out, which would mean that Google isn't planning to kill off the standalone Voice app just yet.