Confirmed: Google+ Hangouts will get SMS and outbound calling support "soon"
6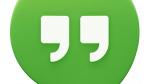 As you would (sadly) expect when a new product is released, people tend to move past the good points fairly quickly and focus on what is missing. When Google announced its new
Google+ Hangouts
integrated messaging system yesterday, there was a few minutes of people saying "Cool!" before the outcry became, "Where is SMS support?" Well, good news is that Google has confirmed that SMS support is coming "soon".
Dori Storbeck, Google's Community Manager for Hangouts and Chat had the good news in the comment thread on her Google+ post announcing the release of the new app. She said, "SMS integration is coming soon - it is one of our most requested features!" So, Google fully understands what the users want, but just couldn't get it ready in time for launch. The code is there though, as users have confirmed that both read and send SMS are listed in the Hangouts permissions page.
Storbeck also clarified what is happening with voice calls in Hangouts, saying:
This first version of Hangouts doesn't support outbound voice calls to mobile phone numbers, but calls into your Google Voice number can be answered in Hangouts. Future versions of Hangouts will support outgoing calls along with other Google Voice features.
Google has a history of pushing updates for new products fairly quickly, so we wouldn't be surprised to see the features added soon. Storbeck didn't speak directly to what users on iOS should expect, but we would assume that SMS would not be able to be integrated there because of restrictions by Apple. It is still possible that iOS could see Google Voice integration though.