Hangouts app updated to fix MMS issues
9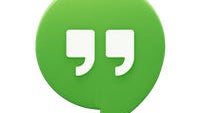 Not all updates are going to bring the big banner features, but that doesn't make them any less important. (That may not be true, but we don't want to make all the bug fixes feel bad.) Google Hangouts for Android is getting a new update to fix some issues that users have been having with MMS messaging since the big version 2.0 update.
The app has gotten fixes to make sending and receiving MMS messages more reliable. It also has a new settings toggle to help with an annoyance where Hangouts would convert group messages to MMS, which could cause some users to be charged by their carriers. Now, you can turn that behavior off if you are one of those unlucky users.
For the really advanced users, there is also now an option to manually configure your APN settings. Hangouts had automatically used its own APN settings when sending MMS messages, so if you had custom APN settings, you may have had problems with MMS messaging. This new option should help you sort that out.
The update is rolling out in Google Play right now, but for the less patient of you, there are download links at the source.