Hands on with the Touch Pro2
7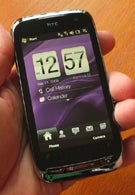 Follow-ups are usually fairly ho-hum, generally a moderate refresh with updated specs and a slightly reworked design. The Touch Pro2 is not your typical follow-up. Boasting an enormous 3.6" 480x800 pixel widescreen display which takes up nearly the entire front of the device, the Pro2 makes the Pro look like its wimpy little brother. OK, so the spec sheet is fairly similar, and beyond the display the main difference between the two is a completely reworked TouchFlo3D, with more of a focus on enterprise users.
The Pro2 runs on a 528MHz processor with 512MB ROM and 288MB RAM, has microSD expansion and has the full compliment of connectivity options. It currently is offered as a quad-band GSM device, but we expect the
CDMA
version
to available soon. The screen is as gorgeous as you'd expect, and we like that the user is given the option to tilt the screen or not when slid open. The increased size allows for more room on the full QWERTY, and it is indeed a dream to type on. The back features a large speaker cutout, a result of the enterprise focus. The Pro2 feels solid in the hand, but man is this thing big.
Look for our full review soon!
HTC Touch Pro2 Specifications