Hands-on with the Nokia N900
7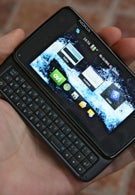 The Nokia N900 is one of the latest devices by the world´s largest cell phone manufacturer. However, this is not a cell phone, but rather, an Internet tablet, or at least this what Nokia announced the gadget was, in spite of the built-in GSM module that allows calls over cellular networks. This is a major advantage of the N900, because carriers will be able to offer the device on contracts, i.e. at subsidized prices. The new internet tablet is not a slouch in terms of hardware and sports 32GB built-in memory, 5-megapixel camera, 3G, Wi-Fi, 600MHz ARM Cortex-A8 processor, 256MB RAM and 768MB ROM. Not bad at all!
The Nokia N900 comes with a rather austere design and feels hefty, but on the overall, you get the feeling as if holding a high-end cell phone and not an internet tablet. It is equipped with a 3.5-inch screen, that´s the same size as the display of the iPhone 3GS, but utilizes resistive technology and has a native resolution of 800x480 pixels. The device features dedicated volume rocker, power on and profile switch buttons, camera shutter, infra-red port, stereo loudspeakers, lock/unlock slider, stylus and microUSB port. If you take a look at the back, you will see 5-megapixel camera, equipped with Carl Zeiss Tessar optics and double LED flash. It is interesting to mention that there is a small stand to prop up the device, similarly to the
N86 8MP
.


The most thrilling aspect of the N900 is, of course, its interface. The tablet runs the Linux-based operating system Maemo 5. Everything seems great and the quick look that we took at it left us with the impression the OS was not simply more eye-pleasing than Symbian, but easier to handle as well. The multi-tasking capabilities are top notch. The Mozilla-based browser has absolutely no issues whatsoever with Flash elements like videos and the 360-degree views of different handsets available on our website get visualized properly, despite the fact the device is just a prototype. Now, enjoy the pictures and we better get down to writing a proper preview of the Nokia N900. Stay tuned, because it´s coming soon!