Hands-on with the LG HBM-585 Bluetooth headset
0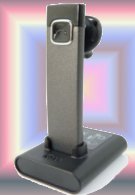 Depending on who you talk to, some view Bluetooth headsets as a novelty, while others heavily rely on the rich features they bring to the table in being a supplemental item to any mobile handset. We've recently managed to acquire one of LG's latest Bluetooth headsets, the LG HBM-585, and put it through its paces to find out what unique features it packs to make it stand uniquely amongst the vast offerings. At a first glance, the LG HBM-585 looks considerably longer versus the average looking Bluetooth headsets on the market, but upon closer inspection, you'll begin to notice its streamlined approach. Sporting a full metal body construction, it's dubbed as being the world's slimmest Bluetooth headset – measuring in at 3.8mm thick. We definitely adore the gunmetal finish on the headset which adds to its overall durable and light weight feel, but we weren't too thrilled with the connection between the earpiece and body – it jut felt a little too brittle for our taste. On the frontal surface, there is a Multi-Function Button which enables you to power it on/off, pickup/end phone calls, activate voice dialing, redialing, and transferring a call. Toward the rear you'll find the volume button which can even announce the battery level with a mere long press. On the opposite end of that, there is a pinhole for the microphone and the charging contacts for the headset. Thankfully, the packaging includes three different sized ear buds, two attachable ear clips, microUSB cable, wall adapter, small charging cradle, and a vehicle power adapter.
When using one of the ear buds, we didn't find it snug enough to close out any gaps – so we preferred using the ear clip to make sure it stayed tight on our ear. Fortunately you don't even notice the headset too much when you have it on thanks to its relative light weight. The LG HBM-585 employs a built-in DSP that supports noise reduction and echo cancellation, however, it already falls behind some of its rivals with its lack of complete noise cancellation. When we encountered windy conditions, the sound of it was prominent to our callers – thus making it rather difficult for them to comprehend our words. In addition, our callers did state that our voice sounded like it was in a cave with a slight echo being distinguishable at the end of our words. On top of that, there is a faint static sound in the background whenever we spoke, but it quickly disappears when there is silence. Since it's main physical attraction is its thin profile, it lacks a built-in port for charging – so that means you'll be required to dock it into either the small charging cradle or vehicle power adapter. Even though it will prominently stand tall while it's recharging and look good while doing so, you'd better make sure to not lose either of them since they are your sole options for charging the headset. One thing worth nothing with the vehicle charger is that it tucks away a USB port on its side which enables you to charge any USB handset simultaneously. The manufacturer has it rated for 5 hours of talk and up to 200 hours of standby time.
Priced at around $70 through various online sources, it may prove to be appealing to some people with its solid looks, but its lack of complete noise cancellation is particularly noticeable. Granted though we adore the charging methods it employs, but losing either one can prove to be even more costly seeing that you can't simply connect a cable to it and start charging. Sure you can pay more money out of your pockets to jump into something with more features, but being priced accordingly at $70 can be seen as a decent value for the money for others.