Hands on with the Dash robot: Program new behaviors and control directly from our mobile devices
4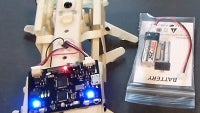 Mobile devices have reached a point in functionality where they are not simply a way to consume media or be basic controls for connected devices. Now, they are finding a role in manipulating the nature or behavior of some of those devices.
What started as a research project in a robotics lab at the University of California, Berkeley, became a deceptively simple idea for consumers and hobbyists. The Dash is a do-it-yourself robot kit, and is aimed at people of all ages.
This little engineering marvel is a perfect parent-child project, or for the gadgeteer that needs to put together and tinker with things. Dash Robotics has so much more in store for this product which will be available in time for the holiday shopping season later this year. Unlike so many remote control gadgets today, which offer a static portfolio of controls, you will be able to program in your own "behaviors" into the Dash robot, then execute those programs, all directly from your Android or iOS device.
Connectivity is enabled via Bluetooth 4.0, and the 125mAh battery charges in minutes while providing over 30 minutes of use. The real treat with the Dash robot is the ability to set-up, and program directly in the accompanying iOS and Android app. The Dash also has the ability to accept robot-to-robot communication so you can build a swarm, or take advantage of any number of the sensors installed on the tiny circuit board. The app also provides real-time information about light sensitivity, 3-axes of motion, IR touch, and multi-colored LEDs.
Perhaps the most impressive feature about the Dash robot is its speed. For a small, semi-rigid frame made of a composite plastic-fabric, the Dash moves really fast, and responds instantly. Control from your mobile device is easy and intuitive with a virtual joystick on the app.
The Dash will be available for about $49.95 this fall.