Hands-on with Verizon's Palm Pre Plus and Pixi Plus
15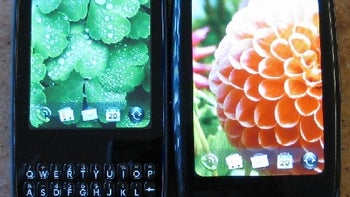 We were fortunate enough to receive the upcoming Palm Pre Plus and Palm Pixi Plus for Verizon Wireless today, both of which officially go on sale January 25th. Official pricing with a 2-year contract will be
$149.99 after a $100 rebate for the Pre Plus and $99.99 after $100 rebate for the Pixi Plus
. Verizon will also be running a special from Jan 25-Feb 14 "
Buy one Palm Pre Plus or Palm Pixi Plus and receive a FREE Pixi Plus after rebate.
" The Unlimited Data plan will run you $29.99 per month, and you can also have the Pre Plus & Pixi Plus act as a 3G Mobile Hotspot with up to 5 other devices connected to it (similar to a MiFi), but that will cost $40 per month on top of your voice and unlimited data plan.
The
Palm Pre Plus for Verizon
looks pretty similar to the
Palm Pre on Sprint
, but there are been a few changes. The center-button below the screen has been replaced with a motion-light, the keyboard numbers are white instead of red, and the back of the slider now has a mirror finish so you can see yourself while using the camera. But the main difference with the Pre Plus is that it has 16GB of internal memory, where the original Pre was limited to only 8GB, though it is disappointing that neither come with a microSD memory card slot. The overall feel and construction of the device remains unchanged and is comfortable to hold. The capacitive touchscreen is quite accurate and easy to use, but still can't compare to the size and pixel resolution of the
Motorola DROID
or
HTC Nexus One
. The Palm Pre Plus comes with webOS 1.3.5.1 installed, as well as Google Maps where you can display driving directions, thought it isn't turn-by-turn with voice prompts like on the Motorola DROID . For that, Verizon has included their VZ Navigator software ($10 monthly charge) , but we'd rather see the free (and better) Google Maps Navigation made avaliable. Naturally you can install other programs using the App Catalog. The QWERTY keyboard remains small and cramped, though slightly easier to use than the one on the Palm Pixi Plus.
Meanwhile,
Verizon's Palm Pixi Plus
is only different from the
Sprint version
in that it comes with Wi-Fi. Internal memory is still limited to 8GB and there isn't a memory card slot. Both the Verizon Palm Pre Plus and Pixi Plus come with webOS 1.3.5.1 and have the same apps installed, including Google Maps, VZ Navigator, Doc Viewer and PDF Viewer. The only real advantage the Pixi Plus has over the Pre Plus is that it's slimmer in size and weight, but this comes at the cost of a smaller display (2.63" instead of 3.10"). The QWERTY keyboard on the Pixi Plus also has smaller buttons and is more cramped than the Pre Plus, which means its more difficult to use if you have large hands.
Palm Pre Plus Specifications
Palm Pixi Plus Specifications
Expect our full review of the Verizon Wireless Palm Pre Plus and Pixi Plus soon!