Hands-on with Samsung miCoach
0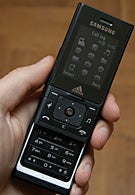 Finally! Somebody is at my door and it had to be the courier this time, not another annoying
neighbour
. I get on my feet and reach the door with two jumps. I open it, grab the big package, give the courier my autograph and head to the kitchen table.
My hands are trembling with excitement while I'm opening the package and…I can't believe it! I'm finally holding it in my hands! The
slider F110
also known as
miCoach
is here. It is a product of the collaboration between two of my favorite companies –
Samsung and Adidas
. That is not just a mid-class quad-band GSM with a 2" display, 2-megapixel camera, and a slot for a microSD card. In combination with the stride (which you attach to your sneakers and it tracks movement) and the HR sensors (which you put around your torso and it keeps track of the cardiac activity), it turns in to a virtual personal instructor.
Uploading the info to the miCoach.com, I will be able to see the detailed information about my condition and to keep track of my progress. The data will be stored on the device for the next 3 years
, even though, I personally think that by then, I will be the white version of Michael Johnson.
Now, I have to go for an extensive workout and you can expect my detailed report about my
first
mission and the part that the
Samsung F110 had
, preparing me for it.
All persons and events portrayed in the report are fictional and only the text in italic is real data.