Hands-on with Eten V900 and X610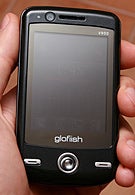 Spb Shell,
which is quite handy and allows fast access to many applications. We noticed that the icons are not only shortcuts, and the personalization extends a bit further in the interface.
V900
is equipped with support for
digital TV
(the standards DVB-H, DVB-T and T-DMB) and has hi-tech characteristics such as touch display with
VGA resolution
, a 3-megapixel camera with flash and GPS (SiRF Star III chipset). Besides, the appearance of the model is quite shiny and attractive, resembling the HTC Touch series.
The next device named
X610
is the successor of
X600
, equipped with the newer version of Windows Mobile, 6.1 and a slightly modified design. Its overall characteristics haven't changed: QVGA display, 2-megapixel camera, GPS as in V900 and the disappointing lack of 3G.
Expect our detailed reviews of these two devices soon.