Half of G1 owners converted from Featurephones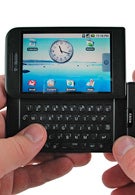 T-Mobile has been trying to breathe life into the G1 with a new TV campaign. The carrier also released some statistics that you might find interesting. About 1 of every 2 G1 owners traded up to the first Android powered device from a featurephone (we would say dumbphones, but we do not want to insult innocent devices). 80% of G1 owners surf the web daily and over half are using Facebook and YouTube at least once a week with the same percentage connecting daily to Wi-Fi. Now we can admit that this information might be useful to T-Mobile when it comes to marketing future phones, but the one stat that is indicative of money coming into the carrier's vault right now is that the average G1 customer has downloaded 40 apps from the Android Market and 4 out of 5 download apps at least once per week. What we want to know is if that 4 out of 5 are chewing Trident while shopping for apps.
You can watch the funny ads
here
.
source:
EngadgetMobile