Hail to the king baby! Duke Nukem 3D lands on Android with action & classic one-liners intact
7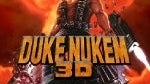 The macho ego driven video game character that we all fell in love with back in the late 1990s, Duke Nukem as he's commonly known as, is making a comeback of late in the video game world – and now, he's doing the same on Android smartphones.
Interestingly, this isn't the first time we're seeing the classic
Duke Nukem 3D
game running on a smartphone, especially when it was
ported to the Nokia N900 back in 2009
, but it's going mainstream as the popular first person shooter is now available for download. Specifically, if you happen to be holding onto an
Android 1.6 and up
device, you can head on over to the Android Market and fetch yourself a download of the classic game, which costs only a mere
$0.99
.
From the wealth of weapons used to fight against the aliens to his classic one-liners, it seems that Duke Nukem 3D for Android retains all of the memorable qualities that the original game offered. Naturally, this will really bring some people back to easier times, but for those who never experienced Duke in full form, just be prepared to take control of someone who happens to speak their mind without thought. We're warning you now!
source:
Android Market
via
Engadget