Hack remote starts a scooter with the shake of a phone
2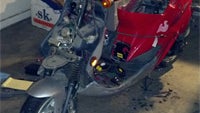 Who wants to be bothered with keys when you can remote start vehicles with a shake of your favorite Android powered smartphone? Brad Nelson's latest batch of homebrew makes that a reality.
In his latest invention, he has concocted a way to control various actions on his scooter by using his
DROID 4
. Using a Python script and some Bluetooth modules he is able to assign different gestures to the phone so that shaking it in specified directions will start the scooter, stop the scooter, and even unlock the seat lock where he stores his helmet.
While he had some of the part already lying around, Brad estimates that you could easily duplicate this project for around $100. He also has provided detailed instructions over at his blog, which you can check out in the source link below.
Check out the video below to see Brad's "Bluition" a.k.a. Bluetooth Scooter Ignition in action.