Hack case gets an iPhone to run Android
23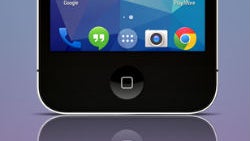 Nick Lee is a big fan of hacking together unholy alliances, even if no one ever asked for them. His last trick was to load up
Windows 95 on an Apple Watch
, which was terribly useless but somewhat interesting as a proof-of-concept. His latest feat is to create a case which will allow users to boot Android on an iPhone.
Interestingly, Android runs basically as an app within iOS on the iPhone that Lee shows off. It even runs relatively well, considering it appears to be Android 4.1 Jelly Bean running on the iPhone. The hack is enabled by a pretty thick case that Lee built to get around the technical limitations of the iPhone. Because of the case, Lee was able to get the iPhone to run third-party executable code, which in this case was Android. The whole process took Lee 45 hours to make work, which is very impressive.
Lee claimed that he was interested in getting this hack to work because he was tired of the Android vs iOS tribalism (aren't we all?) Lee wanted to build it so users could have both iOS and Android on the same device. The case is a cool proof-of-concept, but it seems unlikely to go further than that, so don't expect to be able to buy one any time soon.