HTC's new flagship appears in leaked photos? (Nope, it's just a concept model)
41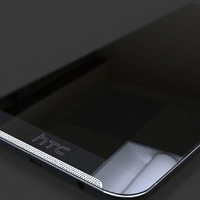 A pair of leaked pictures allegedly reveals the clearest image we've seen to date of HTC's next flagship phone. The
HTC One (M9)
doesn't seem to stray that far from the manufacturer's current
HTC One (M8)
flagship phone. Sporting thinner bezels and redesigned BoomSound speaker grills, the new flagship model would also keep the earphone jack on the bottom of the phone. The HTC logo looks as though it is in for a change in design, however.
The back of the phone makes us want to grab for a grain of salt, something that you should be doing as well. After all, why would the back of the (M9) look exactly like the back of the (M8) if the Duo camera set up is being replaced by a 20.7MP rear snapper?
The latest rumored specs for the HTC One (M9) include a 1440 x 2560 resolution display with the Snapdragon 810 under the hood. 3GB of RAM is on board along with 32GB of native storage. The aforementioned 20.7MP camera adorns the back of the unit, while the 13MP front-facing camera, seen on the
HTC Desire EYE
, handles selfies and video chats.
Chances are, HTC will soon unveil this beast, possibly at CES. So far though, there has been no word from HTC about a possible unveiling this coming week.
source:
ZOL
,
TheNational
via
BGR
UPDATE:
This is exactly why we told you to take the story with a grain of salt. As it turns out, the image of the HTC One (M9) above is merely a concept version of the phone produced by Jermaine Smit, and posted on his YouTube channel. As we noted, the back of the phone couldn't be legit considering the 20.7MP camera expected on HTC's new flagship is expected not to feature the Duo camera feature
.
The specs listed in the article, we should point out, came from another source.
source:
JermaineSmit