HTC's Wang blames lack of communication for sales slump
34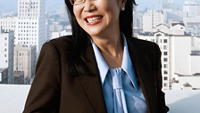 HTC Chairwoman Cher Wang says that communication between the company and consumers needs to improve. Over the weekend, Wang told a television audience during the Asia-Pacific Economic Cooperation conference in Bali that "
We really have the best technology and the best product
." The Taiwan based manufacturer saw its global share of the smartphone market drop by more than 50% in the second quarter despite offering its best received model in years, the
HTC One
. While a smaller
HTC One mini
has already launched, the company is expected to soon unveil the
HTC One Max
, a phablet sized version of its flagship model with a fingerprint sensor on back.
HTC had hoped that its new ad campaign starring Robert Downey Jr. would give a boost to sales, but the spots really were unfocused and did not necessarily "communicate" with phone buyers. That probably won't stop HTC from trying to use the actor in future spots. Wang says that the public likes Downey because they see him as a "
change maker
." But HTC is in the business of selling phones, not cute slogans, which leads to a major disconnect between the company's ultimate mission and the commercials. Since the actor is believed to have signed a two-year contract worth $12 million, the manufacturer might feel compelled to continue starring the movie star in more ads.
"
Our communication does have a problem but we are improving on that. It's a gap between our new products coming out and we are improving our innovation and our marketing
"-Cher Wang, Chairwoman, HTC
Last week,
HTC reported the first quarterly operating loss in company history
and Wang says that the current quarter is going to be a challenge. Another worry for HTC is that its stock price has dropped so much, the company could be the target of an unwanted takeover attempt. Some companies mentioned as being interested in HTC include China's Lenovo, Huawei or ZTE. Wang does expect her company to control 20% of the high-end smartphone business in China next year and her job will be to get HTC to that level in other major markets, including the U.S.
source:
Bloomberg
Recommended Stories