HTC selling off its Shanghai smartphone factory to Chinese brand
17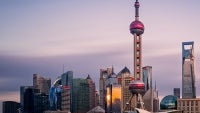 Last week, we regrettably reported that HTC plans to
let go of 15% of its work force
in an effort to reduce operating expenses. Today, we learn that the shedding of work resources will continue with HTC selling its Shanghai factory to an undisclosed Chinese manufacturer.
HTC has a number of facilities across mainland China and Taiwan, which it uses to manufacture its own smartphones. The Shanghai factory, in particular, was built in 2009 at a cost of about $32.2 million. In 2010, when HTC was in good times and revenue skyrocketed, the factory, which has a working area of around 147 square meters,
operated at double capacity
.
Today, demand for HTC phones doesn't call for its availability, and if the company is willing to part with it, this could mean it has lost hope of coming back to its past success. The Taiwanese phone maker is in a difficult spot, with its ambitions to battle Samsung and Apple restricted by its comparatively miniscule size, and its low and mid-range handsets being pushed against the wall by Chinese low-cost vendors.
On the upside, selling the factory will put a welcome cash injection in HTC's dwindling bank account. In addition, the company doesn't seem to be disheartened by the trying times that have fallen upon it, as leaked information about an upcoming flagship smartphone, the Snapdragon 820-powered HTC O2, suggests HTC hasn't lost any of its high-end device ambition.
via
GSMDome