HTC says it's time to serve the Eclairs
This article contains unofficial information.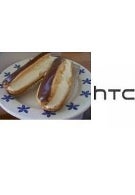 With the Motorola Droid for Verizon looming on the horizon as the only upcoming Android 2.0 (Eclair) device, Gearlog wanted to find out if any of the other Android manufacturers were saying, "Time to serve the Eclairs". Samsung wouldn't confirm, but HTC said that they have had Android 2.0 around for a while, and they plan on using it for future phones. That naturally brought to light the interesting situation at Big Red where the carrier is not too far from launching the Android 2.0 powered Motorola Droid. If Verizon is launching a Eclair rich model from Motorola, why go backward with a older build for the upcoming HTC Android models on Verizon's plate? So it could be that the Droid Eris (formerlly the HTC Desire) or the HTC Passion will either or both be outfitted with the 2.0 copy of Android. Right after we
reported
that the HTC Passion could be an Android version of the HTC HD2, Verizon customers started making plans to get their hands on this full featured and super spec'd phone. Add Android 2.0 to the equation and, well, we can't be held responsible for the reactions of cellphone fanatics.
HTC Desire Preliminary Specifications
HTC Passion Preliminary Specifications
Motorola Droid A855 Preliminary Specifications
source:
Gearlog
via
Slashgear
,
EngadgetMobile