HTC rumored to cancel its 12" Windows RT tablet, but still working on the 7"
8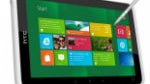 HTC has had something of a troubled history with tablets, and it seems that has made the company somewhat cautious when it comes to the form factor.
Bloomberg
is now reporting that HTC has scrapped plans to build a 12" Windows RT tablet, but the company hasn't completely abandoned the idea of a Windows tablet, and is said to still be working on a 7" model.
According to the report, HTC decided to kill off the 12" tablet for a couple of reasons. First, the cost of development on the tablet was getting too high. But, maybe more importantly, HTC didn't believe there was enough demand for the device. Apparently, sales of Windows RT tablets have been low enough to scare off HTC. Couple that with the fact that the company would likely need to price a 12" tablet higher to compensate for component costs, and the device wasn't worth the effort.
But, HTC isn't completely leaving tablets or Windows RT behind. While HTC doesn't think customers want a 12" Windows RT tablet, it does think that customers want a 7" Windows RT tablet. Given that no such device exists yet, we can't really say if HTC is correct or not, but RT in general doesn't seem like the strongest platform.