HTC offering ridiculously low-priced HTC One M9 to retail carrier reps
37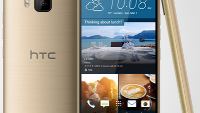 There is nothing more convincing to some new phone shoppers deciding which model to buy, than seeing which device is in the sales rep's own pocket. Thus HTC has devised a plan that will entice retail carrier salespeople to have an
HTC One M9
in their pocket now, and the latest model in their hands each year. The program, called HTC Champions, calls for retail carrier sales reps to sign up and then pay $299 off-contract for the brand spanking new HTC One M9.
Wait. There's more. Those eligible to sign up for the Champions program also become eligible to sign up to HTC's One 4 Life. This is exactly what it sounds like. Every year, HTC will replace the sales rep's HTC One handset with the latest and greatest model at absolutely no cost to the rep.
It's a brilliant grassroots movement by HTC. Believe it or not, there are some people in the world who don't research their next new phone purchase and couldn't tell you the difference between a Snapdragon chipset and a Snapple iced tea. These are the customers that HTC is trying to snag with this program. The potential phone buyer walks into the store, gets overwhelmed by all of the choices he has, and inevitably asks the rep which phone he/she recommends. HTC is hoping that the salesperson then pulls out a shiny HTC One M9 and closes the transaction.
If you are a retail salesperson for a U.S. carrier, head to the sourcelink to sign up for the Champions program. Better hurry though, as HTC says supplies are limited.
source:
HTC
via
+PatrickHill
,
XDA
Recommended Stories