HTC moves its clock app to the Google Play Store
5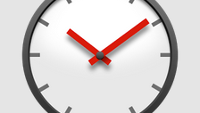 The other day, we told you about the HTC default keyboard
that was published by the manufacturer in the Google Play Store
. Now, HTC has posted its clock app in the store. The advantage to those HTC device owners with a compatible phone or tablet, is that any update to the QWERTY or the clock, can be quickly taken care of by downloading the updated app to the HTC device, without waiting for your carrier to approve a firmware update.
The HTC clock app includes a timer, stopwatch, alarm and an world clock. It is a well-designed application and quite functional as well. What is odd is that the app is not compatible with some
HTC One (M8)
models, at least for now. Additionally, the app will also not work for the moment with the
HTC One (M7)
.
As we pointed out on Wednesday,
HTC is following Motorola
and Sony in moving core apps to the Play Store. It is such a practical idea that we would be surprised if other manufacturers didn't follow suit. Considering the testing that some carriers put these updates through (Hello, Verizon!), downloading an app from the Google Play Store to update a core app, will always prove to be the fastest and most direct route to your phone or tablet.
source:
HTCClock
via
AndroidPolice
,
AndroidandMe