HTC might be preparing a Google Play Edition of the HTC One (M8) (It is indeed!)
15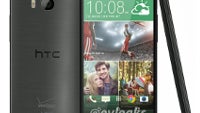 It seems that the HTC One (M8) will also have a Sense UI-free version, as a Google Play Edition of the much-anticipated device is being heavily rumored. Earlier today, most of the new apps from the new iteration of Sense UI already landed on Google Play and a single line of text in the description of one of these, HTC Gallery, already spurred a lot of speculations that the Taiwanese manufacturer might release a stock Android version of its flagship for 2014.
"The HTC Gallery provides you with a range of fast and easy ways to locate your photos. With Image Match, simply choose a photo with the object or person you want to find and it will locate similar images for you. Timeline View allows you to locate images by day, month or year. And POI Location searches photos that have been taken at a particular place. Now it's fast and easy to find all the photos you need to. Support for HTC One(M8) Google Play Edition is limited to HTC Photo Edit,"
the description of HTC Gallery states.
This comes as little surprise – as you might recall, HTC released a
Google Play Edition
of the HTC One last year, so it would be rather surprising if the soon-to-be-unveiled flagship doesn't receive a Sense UI-free version, which runs on stock Android. There are no clues, however, when the HTC One (M8) Google Play Edition would be launched.
You can read our liveblog of the HTC One (M8) announcement event
here
.
Update:
The rumors turned out to be true - the HTC One (M8) Google Play Edition is now available for pre-order on Google Play. The device is running vanilla Android 4.4.2 KitKat and is priced at $699.
source:
Android Authority