HTC looking for better sales for its U series
18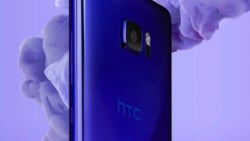 HTC just launched its
HTC U Ultra
and
U Play
yesterday, and they look pretty interesting. The
HTC U Ultra comes with a design that the company calls Liquid Surface
, a second screen similar to that of the LG V20, and some pretty high-end specs. The
U Play is a bit more modest in the hardware department
, but still looks gorgeous.
And HTC hopes that it will make some pretty good profit off the two devices. In fact, Chialin Chang, HTC president of Global Sales, said that the company hopes the newly unveiled handsets will sell better than the HTC M series.
The U series will be the new flagships for the company, with "HTC 11" not coming, or at least not under that name. In the meantime, the Desire series will continue to evolve, but will remain HTC's mid-range devices. This is probably an attempt on HTC's part to rebrand its flagships that have been lagging behind those of its competitors for some time now. And, we have to admit, the new devices are far more appealing in terms of design and branding than the
HTC 10
, for example.
HTC has also undergone some personnel changes, with Jack Tung, president of HTC North Asia, reassigned to the expansion of HTC Vive stores in Japan and Taiwan. There were also some rumors circulating about possible layoffs in the company's North American branch, but Chang dismissed them completely, stating that the market there is still important for HTC.
The new HTC U handsets will be released in Taiwan by the end of this month, with more markets following in February. However, the US will only receive the HTC U Ultra, and it's expected to begin shipping in mid-March.
source:
Digitimes