HTC looked into Moto X-like customization, but scrapped the plans
3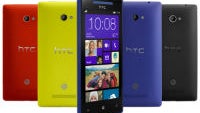 You can plan all you want, but if you don't execute, it doesn't really matter. It seems that HTC had looked into setting up its own customization site, much like the Moto X
Moto Maker
site. The planning happened last year, but obviously nothing ever came of the planning and the customization idea was ultimately scrapped.
Sources have told
The Verge
that HTC was planning a customization site for the Sprint
HTC Windows Phone 8XT
. The site would have been called HTC Design Studio, and it would have included many of the same options that Motorola will have available for the Moto X, like color options for speaker, accents, and the two-tone highlights, as well as personal engraving.
The HTC 8XT customization plans were ultimately dropped because of cost and complexity issues, and the
8XT
was released in July with exclusive apps, but the device didn't even have a choice of colors like the HTC 8X did on other carriers.