HTC is selling the Nexus 9 at crazy low prices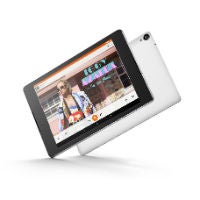 The Nexus 9 was a great tablet that just never caught on with the public. We gave it a score of 9.3 in
our review
, which was a score that bested every other tablet (including all iPads) we've reviewed except for the 2013 Nexus 7. But, for whatever reason, HTC has had trouble giving away the tablet. It is trying again though, with an impressive sale.
It should be noted right off the bat that supplies seem to be going quickly. HTC is already listing the 16GB variants of the Nexus 9 as "Out of Stock" (they had been selling for $239.40). So, that means, you'll have the choice between $287.40 for a 32GB Wi-Fi only model or $359.40 for a 32GB LTE model. The Wi-Fi only is a choice between black or white, but the LTE only comes in white.
These are still some killer prices, because the 32GB Wi-Fi model sells for $479 in the Google Store or $370 through Amazon, while the LTE model would normally run you $599 through Google or $499 through Amazon. Of course, as noted, stock is already disappearing, so while the sale technically runs until 11:59 PM PT on Wednesday, November 4 (tomorrow), there's no guarantee supplies will last that long.