HTC has a super cool see-through 'Ice View' case for the new HTC 10
16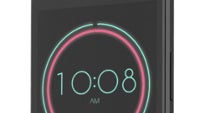 The HTC 10 is out and while the phone itself looks cool: it's got a new design with a signature chamfered back and it sports the latest and most powerful Snapdragon 820 under the hood, as well as a new, 12-megapixel camera with optical stabilization, but the really awesome new thing around it is the new Ice View case.
An evolution of the Dot View case, which was one of the most innovative and liked cases made by a phone maker recently, the Ice View no longer requires you to peek through dots to see missed notifications, but offers a much fuller, uninterrupted view of the screen. It's still a fold-out case, with the front side featuring this matte-like material that allows you to see through it and view the display. You can also use the phone while the front is protected and the case is on, which is the signature feature for this type of cases.
You can also fine tune some settings on this case via a dedicated Ice View app: you can select how long time outs are, as well as customize neat gestures like double swipe down to open the camera and you can take a picture with the case still on (but you have to lift the front cover to see the picture itself).
The Ice View case for the HTC 10 will be available when the phone launches in early May for a full retail price of $50.