HTC executive says the company would benefit from a spin off of its VR business
5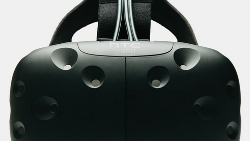 Comments made in January by Cher Wang, HTC's CEO and co-founder, led many to believe that HTC was going to spin off the VR business into a separate entity. At the time, speculation called for Wang and HTC to jointly own 100% of the business that includes the manufacturer's new Vive VR headset. But almost immediately,
the rumor was denied by the company
. In its statement made last January, HTC said that it "will continue to develop our VR business to further maximize value for shareholders."
It appears that HTC is changing its thinking about a spinoff. A report published today says that HTC's president of global sales, Chia-lin Chang, told those attending the company's annual stockholders' meeting that the manufacturer could benefit from a spin off of the VR business. Such a financial maneuver would help HTC solicit funds from equity investment firms, and sign deals with strategic partners. Both would help the company become competitive in VR.
Its partnership with Valve is a good example of the type of deal that can help HTC, according to CEO Wang. With 130 million users of its VR games, partners like Valve can help HTC hit its long term profit targets. Wang also says that the company should get its share of profits as developers write VR apps for the education, healthcare, shopping and entertainment industries.
While HTC thinks about spinning off its VR business, the details of how such a transaction might work were not unveiled during the stockholders' meeting. Investors holding HTC have seen the price of their shares drop from $31 USD on July 1st 2011, to its current value of $3.31 USD. Still, rumors about a spin off has the stock up 9% Tuesday morning in Taiwan.
source:
Digitimes