HTC executive hints that the HTC One (M7) might get Android 5.1 after all
7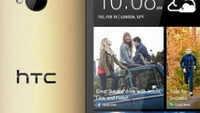 On Thursday, a tweet from HTC VP of Product Management Mo Versi broke the hearts of countless
HTC One (M7)
owners when he said that
the phone would not be updated to Android 5.1
(except for the Google Play edition of the handset). After all, HTC's guarantee covers two years of updates after a device is launched, and the former flagship had already been on a magical journey from Android 4.1.2 to Android 5.0 in that time span.
But Friday night brought a new tweet from the executive. In this message, Versi said that he had heard all of the comments from One (M7) owners who own a carrier branded model of the device. He noted that most of the bug fixes to repair issues caused by the Android 5.0 update are already baked inside HTC's current software. He also added that he understands the concerns of One (M7) owners, and closed by giving them a ray of hope offered by two words, "
Stay Tuned
."
If you're thinking that HTC won't back down from its original decision, there is precedent for a reversal. Back in June 2011, the company said that the
HTC Desire would not be updated to Gingerbread 2.3
even though it had been launched only 14 months before. HTC cited the small amount of RAM inside the handset (576 MB) for coming to this decision. But enough complaints ensued, and HTC ended up removing some of the apps that the phone came bundled with in order to shoe horn the update into the phone.
With 2GB of RAM on the HTC One (M7), short term memory is certainly not an issue here. If it is just a matter of the two-year guarantee coming to an end, the image conscious manufacturer just might decide that it is worth earning the faith and trust of all those HTC One (M7) owners by sending out the update after all. In addition, as the next few months unwind, those who bought the device signing a two-year contract could be looking for a new phone. HTC certainly wouldn't be hurting itself by updating the One (M7) and giving owners of the device a good feeling about the company. It might make a difference with those having a hard time deciding between the new
HTC One M9
and the
Samsung Galaxy S6
/
Samsung Galaxy S6 edge
.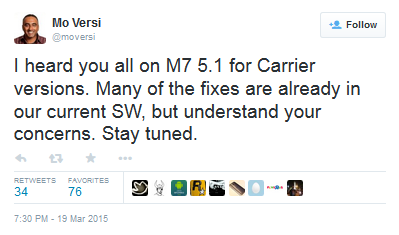 Is HTC planning on reversing its previous decision?
source:
@moversi
Recommended Stories