HTC Touch HD, Viva and 3G: pricing for Italy and a few more details
10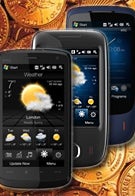 Windows Mobile Italy has managed to get their hands on valuable unpublished details concerning the latest breed of Windows Mobile smartphones just announced by HTC and respectively named
HTC Touch HD
,
HTC Touch Viva
and
HTC Touch 3G
.
For instance, according to the official press release the HTC Touch HD is to be made available in Europe during Q4 2008 and then to be launched later in other global markets, while our source revealed that the Touch HD is said to be available in Italy in December 2008 at a price (TBC) of € 849 ($1220), solely through Italy's main mobile operator TIM.
As per the Touch Viva, which will be available only in the color named Storm Gray, HTC is going to launch it throughout Europe in October. In Italy, the HTC Touch Viva will be priced at € 279 ($400).
The HTC Touch 3G will share the same launch schedule with the Touch Viva and will be available in October 2008. While the color schemes in which it will come are Sophisticated Black, Noble Gold, Spark Blue and Modern Brown, only the gold and blue colors will make it to the Italian market, with the Touch 3G being priced at € 499 ($720).
source:
WindowsMobileItaly
,
more
,
more